Gabrielle Renaudot Flammarion (1877 – 31 October 1962)
Astronomer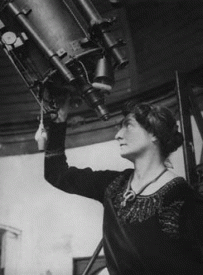 Gabrielle Renaudot Flammarion was a French astronomer. She worked at the observatory at Juvisy-sur-Orge, France, and was General Secretary of the Société Astronomique de France.
She published work in the changing surface features of Mars, the Great Red Spot on Jupiter, and observations of other planets, minor planets and variable stars.
Born as Gabrielle Renaudot, she was married to Camille Flammarion, who also was an accomplished astronomer.
A crater on Mars is named in her honor, and her first name was the basis for naming the asteroid 355 Gabriella.
From Wikipedia